Dr. Jonathan P. Wiens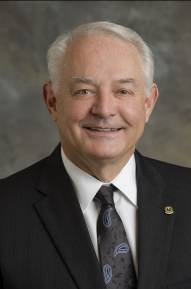 Jonathan P. Wiens received his Bachelor's degree from Eastern Michigan University and received his DDS from the University of Detroit, magna cum laude, in 1973. He received the SG Applegate Award for outstanding achievement in prosthodontics and the PS Crosby Award in operative dentistry. He was inducted into the Omicron Kappa Upsilon national honor society.
He completed prosthodontic advanced training in fixed and removable prosthodontics and maxillofacial prosthetics at the Mayo Graduate School of Medicine in 1979 and received a MSD degree. In addition, he has completed more than 2,000 continuing education credit hours with experiences in evidence-based dentistry, as well as quality of life research at Mc Masters University in Hamilton, Ontario.
In 2004 he received the UDM Alumnus of the Year Award. In 2009 he received the highest honor bestowed by the American Academy of Maxillofacial Prosthetics as recipient of the Andrew J. Ackerman Award for distinguished service and contributions.
Michigan general dental licensure attained in 1973 and Michigan Prosthodontic Specialty licensure in 1980. Achieved Diplomate status of the American Board of Prosthodontics in 1982. He was elected as an ABP Board Examiner in 2006 and currently serves as an ABP Examiner and Vice President.
He is in private practice limited to prosthodontics in West Bloomfield, Michigan. He has held teaching positions at the VAMC-University of Michigan and University of Detroit Mercy were he reached the rank of Clinical Professor. He also was the attending staff maxillofacial prosthodontist in the Craniofacial Department at St. John Providence Health System in Novi, Michigan.
Dr. Wiens has been very active in organized dentistry holding memberships in a variety of prosthodontic organizations. He is a Past-president of the Academy of Prosthodontics, the American Academy of Maxillofacial Prosthetics and Michigan Society of Prosthodontists. He is the Immediate Past-president and Fellow of the American College of Prosthodontists.
He has chaired/served on many committees including the recognition of the specialty, scientific program, national prosthodontics awareness, finance, governance, evidence-based dentistry, executive director search, informatics, maxillofacial, Messenger Editor, nominating, occlusion task force, parameters of care, strategic planning, knowledge-based governance and quality of life. Memberships are held in the Academy of Osseointegration, the American Dental A, MDA and Oakland County Dental Society.
Currently, he serves on the Maxillofacial Foundation and ACPEF Foundations that awards treatment funds for patients with oral and facial cancer, birth defects and severe trauma as well as educational grants for prosthodontic students. Dr. Wiens also donates his time treating patients at Indian Health Outreach programs through the Academy of Prosthodontics.
Clinical research areas of interest include trauma, quality of life, occlusion, craniofacial and dental implants. These activities have resulted in 100 invited lectures to state, national and international organizations, 15 published manuscripts in peer-reviewed prosthodontic journals and 11 book chapters. He has served as a manuscript reviewer for the Journal of Prosthodontics, the International Journal of Oral & Maxillofacial Implants, the Journal of Prosthetic Dentistry and the Journal of the Michigan Dental Association.